GreenThumb

Doncaster East
Lawn Care Treatments, Repairs and Maintenance Services in Doncaster East
Welcome to GreenThumb Doncaster East
Steve and Tracey Hawkins took over GreenThumb Doncaster West in March 2019 and after 4 great years of taking care of lawns in that area, acquired the Doncaster East branch in April 2023 to create GreenThumb Doncaster.

We are now able to boast that we provide professional lawn care for over 4000 customers in Eastern and Western Doncaster: Locations include Thorne, Finningley, Westwoodside, Epworth, Crowle, Scunthorpe, Messingham, Gainsborough, Kirton in Lindsey, Bawtry, Tickhill, Bessacarr, Cantley, Wheatley, Sprotborough, Bentley, Rossington and Beckingham to name a few.

We have a small but dedicated and friendly lawn operations team. Lead by Josh, we have Tom, Jonathan, Jamie, David, Lee and Simon who are fully trained with many years experience and who carry out our professional lawn treatments and regularly exceed customer expectations. Elaine is always on hand to deal with telephone enquiries and coordinate activities from the office and is at the heart of our operation.  We are a professional team who enjoy working together and transforming lawns throughout our area.  
Each customer receives regular, pre-arranged lawn treatments. They know in advance when we will attend and our lawn operatives are always happy to discuss the lawn and offer advice on how to keep it in tip top condition.
Customer service is at the heart of what we do and if at any time customers have concerns about any aspect of their lawn, we encourage them to let us know.  We will very happily visit, free of charge, to offer advice on remedial action because we want our customers lawns to always look their best.
GreenThumb products are of the highest quality and are professionally applied in exactly the right quantities to give excellent results whilst being very reasonably priced.

Customers receive 5 pre-arranged treatments for their lawn each year.  In the spring we apply our temperature and moisture activated Spring Ready treatment followed in the early summer with our Summer Ready fertiliser and weedkiller.  Alongside the Summer Ready treatment, we apply our Water Conserver and Seaweed Extract treatment (When soil gets very dry in summer months it will not easily absorb water and even a heavy summer downpour will run off to waste, but our water conserver affects the soil so that any moisture is absorbed and if there is no rain, watering quantities are reduced).  In later summer we apply our Summer Long treatment with its extra-long release fertiliser and weedkiller taking the lawn safely into autumn, and, in the autumn/winter we apply a Autumn/Winter Long treatment to control moss and nourish the lawn (This subdues the spread of moss and strengthens the grass to keep it healthy during the colder months). 

Moss thrives in cold damp locations and is most active in the winter months.  If allowed to thrive will choke the lawn.  Lawns are prone to moss if they are in a shaded location or if they have excessive thatch (build-up of dead fibrous matter).  We encourage customers to cut back overhanging shrubs to keep the lawn as open as possible.  Our Aeration and Scarification treatments reduce thatch, thereby minimizing moss, and many of our customers now have annual Aeration and Scarification along with the regular treatments. 

There are three direct debit packages to choose from, click here for more information.

We have other lawn products to help further improve the appearance of your lawns, such as StressBeater, growth regulators, fungicides, treatments for insect infestation and overseeding and top dressing.  We have had great success with our seed and top dress treatments which can transform a lawn.

The first step to become a customer is to give us a call.  We will arrange to carry out a 'Free, No Obligation' Lawn Analysis to advise you of the price and the best package of treatments for your lawn.
Contact Us
If you have a question about your lawn, you may find what you need in our our FAQs section or our Lawn Problems & Advice section. Alternatively, get in touch by completing the form below. We will get back to you as soon as possible, though this may take longer than usual at weekends or Bank Holidays.
We never pass your details on to third parties.
N.B. fields marked with an asterisk (*) are required.
Thank You for contacting your local GreenThumb
A customer service representative from your local branch will contact you soon.
Please note: Submissions received on bank holidays and weekends may take longer to respond to.
What to expect next?
Your details have been forwarded onto your local branch. Once they have received them they will call to arrange a free lawn analysis.
How long should I wait?
We aim to contact you back within 24 hours, however messages sent on bank holidays and weekends may take longer to respond to.
How will you contact me?
We will phone you on the number you have provided, however if we can't get through to you, we will try to contact you via email.
Frequently Asked Questions
When can I start using GreenThumb?

You can adopt our services at any time of the year. There is never a 'bad time' to start improving your lawn.
Do I have to be at home when you come and treat my lawn?

The majority of our customers are not at home when we call. Since all our vehicles and Lawn Operatives are self-sufficient, we can carry out your treatments as long as we have access to the lawns.

If you would prefer to be in when we are treating your lawn, we will do our best to accommodate your request.
I have children and /or pets. What should I be aware of?

We recommend that you keep off the lawn until any liquid part of the treatment has dried (approx. 2 hours). This stops it being walked off. And this is especially true of our NutraGreen Autumn Long Treatment, we recommend that you keep off the lawn for more than 2 hours then as it could stain a carpet or wooden floor, if it were walked into the home.

Grazing pets such as rabbits and guinea pigs should be kept off the lawn for a minimum of two weeks or three cuts, whichever occurs latest, to avoid ingestion of Ragwort, in particular, which becomes poisonous to them as it dies back.
Do I have to sign a contract?

No, we want our customers to continue with GreenThumb based on our merits in creating a healthier, greener lawn for them - not because they are stuck in a contract. Of course, with our treatment programmes, you will need to sign a Direct Debit Mandate with the relevant T&C's which relate to this payment option.
Postcodes We Cover
DN3
DN7
DN8
DN9
DN17
DN21
Postal address:

GreenThumb Doncaster East
Unit 2F, Sandtoft Road
Sandtoft Road, Belton
Doncaster
DN9 1PN
Registered address:

Unit 2f, Sandtoft Industrial Estate, Sandtoft Road, Belton, DN9 1PN

Company name: Chris Potton Ltd
Company number: 6661735
Lawn Care Gallery
Look at some of the photographs we've taken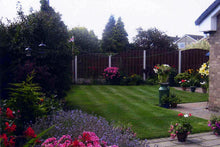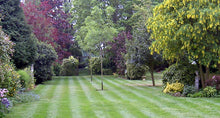 We're accredited as Lawn Assured because we follow the standards set by BASIS to care for lawns in a safe and sustainable way. We are trained and independently audited each year to retain this accreditation.