GreenThumb

Bridgnorth
Lawn Care Treatments, Repairs and Maintenance Services in Bridgnorth
Welcome to GreenThumb Bridgnorth
Husband and Wife, Jason & Vicki Bell took over the Bridgnorth branch in October 2015, however, they also service the Oswestry branch and have done so very successfully since 2008. Our team is vastly experienced and committed to delivering high quality lawn care and excellent customer service.
Jason, Vicki and their experienced team look after over 1,200 lawns in areas such as, Bridgnorth, Codsal, Coven, Tettenhall, Perton, Albrighton, Pattingham, Stourbridge, Cleobury mortimer, Bewdley and Ludlow. Jason and Vicki are passionate about getting involved in the local community, actively supporting and sponsoring, Hope House Children's Hospice and Bridgnorth Rugby Club.  All the team work really hard to ensure all their customers' lawns are cared for correctly and that their customers are satisfied with the lawn care they provide.  With much of their custom coming from recommendations by friends, family & neighbours who are satisfied with their high quality customer care and the way they take care in caring for their lawns.  Our customers range from small domestic lawns to large country estates
Every lawn treated by our Lawn Operatives receives a minimum of 5 pre-scheduled tailor-made treatments each year.  Using our high quality fertiliser and products we keep our customers' lawns in a healthy, lush condition and free from weeds.  We control moss by advising Hollow-Tine Aeration and Scarification. We also offer excellent Direct Debit programmes which will let you spread the cost of your lawn care and save you money.  We have seen lawns transformed thanks to our range high quality exclusive fertilisers and products.
Over the last 4 years the team has also been offering Lawn Makeover programmes, we turn existing lawns into the ultimate lawn, more cost effectively, with superior results than turfing, with less disruption to the home-owner.
The experienced Lawn Operatives can also apply specialist treatments such as insecticides, fungicides and wetting agents to combat anything from insect infestation within your lawn to fungal infection and drought related problems.
There has been a big increase in climatic conditions in recent years that cause lawn problems such as:
Red thread, which is a viral fungus that attacks lawns. 
Leatherjackets are the grubs of the crane fly (daddy longlegs) that gorge on grass roots leaving ugly bare patches. 
Chafer grubs are the grubs of the Chafer beetle which is a common problem in this area.
Dry Patch, where the grass dies back due to lack of moisture. In dry conditions a major problem with lawns not watered regularly by the homeowner is 'dry patch'. This can be treated by aerating the lawn followed by our specialist Water Conserver treatment.
Moss, which is a big problem everywhere at the moment due to the extended wet weather can be treated with our micronutrient feed which also helps with the moss.
We are the experts in lawn care and within the Oswestry branch there is over 30 years' experience in GreenThumb Lawn Care.  So if you have any questions concerning your lawn, how to look after it, how to get it looking great or would like a free no obligation lawn survey from GreenThumb, please feel free to get in touch on 01691 655111 or bridgnorth@greenthumb.co.uk
Contact Us
If you have a question about your lawn, you may find what you need in our our FAQs section or our Lawn Problems & Advice section. Alternatively, get in touch by completing the form below. We will get back to you as soon as possible, though this may take longer than usual at weekends or Bank Holidays.
We never pass your details on to third parties.
N.B. fields marked with an asterisk (*) are required.
Thank You for contacting your local GreenThumb
A customer service representative from your local branch will contact you soon.
Please note: Submissions received on bank holidays and weekends may take longer to respond to.
What to expect next?
Your details have been forwarded onto your local branch. Once they have received them they will call to arrange a free lawn analysis.
How long should I wait?
We aim to contact you back within 24 hours, however messages sent on bank holidays and weekends may take longer to respond to.
How will you contact me?
We will phone you on the number you have provided, however if we can't get through to you, we will try to contact you via email.
Meet The Team
The people that make a beautiful lawn possible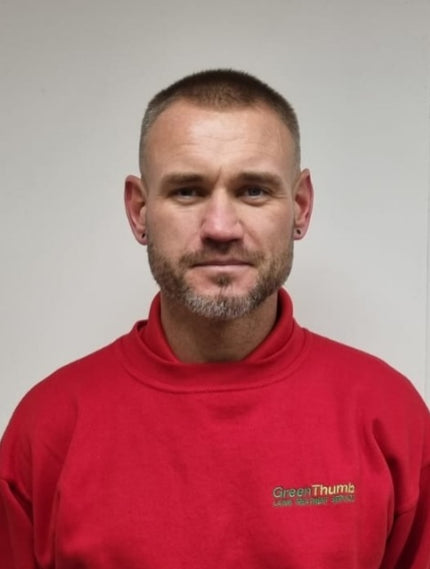 Jason Bell
Franchisee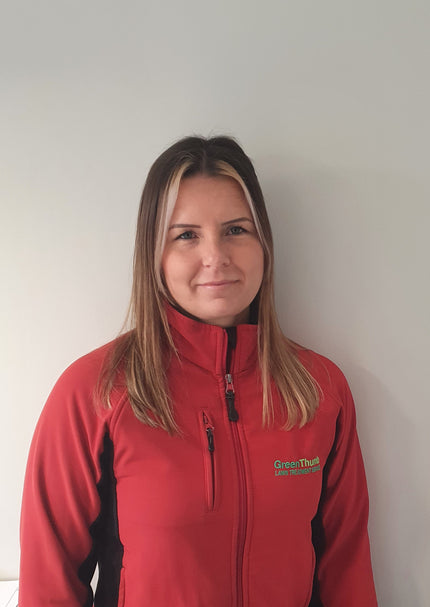 Vicki Bell
Franchisee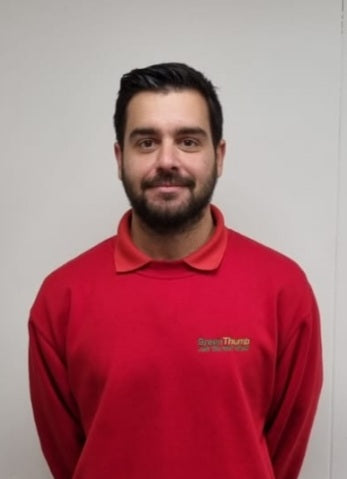 Antony Locke
Lawn Operative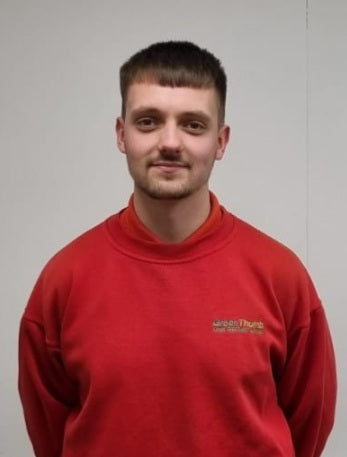 Josh Norwood
Lawn Operative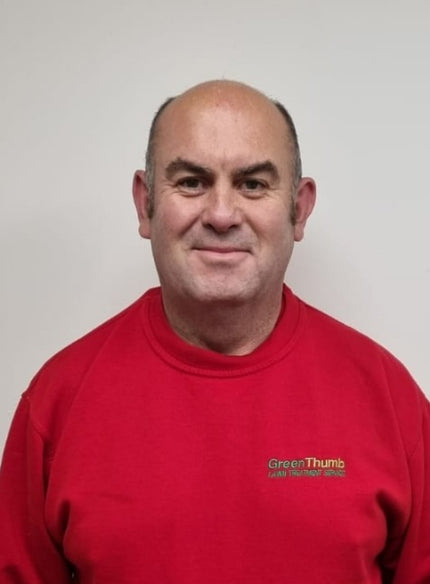 Stuart Crawford
Lawn Operative
Frequently Asked Questions
When can I start using GreenThumb?

You can adopt our services at any time of the year. There is never a 'bad time' to start improving your lawn.
Do I have to be at home when you come and treat my lawn?

The majority of our customers are not at home when we call. Since all our vehicles and Lawn Operatives are self-sufficient, we can carry out your treatments as long as we have access to the lawns.

If you would prefer to be in when we are treating your lawn, we will do our best to accommodate your request.
I have children and /or pets. What should I be aware of?

We recommend that you keep off the lawn until any liquid part of the treatment has dried (approx. 2 hours). This stops it being walked off. And this is especially true of our NutraGreen Autumn Long Treatment, we recommend that you keep off the lawn for more than 2 hours then as it could stain a carpet or wooden floor, if it were walked into the home.

Grazing pets such as rabbits and guinea pigs should be kept off the lawn for a minimum of two weeks or three cuts, whichever occurs latest, to avoid ingestion of Ragwort, in particular, which becomes poisonous to them as it dies back.
Do I have to sign a contract?

No, we want our customers to continue with GreenThumb based on our merits in creating a healthier, greener lawn for them - not because they are stuck in a contract. Of course, with our treatment programmes, you will need to sign a Direct Debit Mandate with the relevant T&C's which relate to this payment option.
Postcodes We Cover
DY12
DY14
DY7 5
WV15
WV16
WV5 7
WV6 7
WV6 8
WV6 9
WV7
WV8
WV9
Postal address:

GreenThumb Bridgnorth
Unit 13, Maes-y-Clawdd Enterprise Unit
Maesbury Road
Oswestry
Shropshire
SY10 8NN
Registered address:

102 Bowen Court, St Asaph Business Park, St Asaph, Denbighshire, LL17 0JE

Company name: J & V Bell Ltd
Company number: 06681953
We're accredited as Lawn Assured because we follow the standards set by BASIS to care for lawns in a safe and sustainable way. We are trained and independently audited each year to retain this accreditation.