GreenThumb

Birmingham South
Lawn Care Treatments, Repairs and Maintenance Services in Birmingham South
Welcome to GreenThumb Birmingham South
Tom Price and Edward Murray founded the Birmingham South branch in March 2010 – after working as lawn operatives for GreenThumb.
They bring more than three years experience of treating residential lawns and Tom previously worked as a green keeper at a golf club. They look after lawns in Edgbaston, Harborne, Moseley, Kings Heath, Rowney Green, Alvechurch, Selly Oak, Stirchley, Bourneville, Kings Norton and Weoley Castle. Each customer's lawn receives four pre-scheduled treatments during the spring, summer and autumn that feed and weed the grass and keep weeds at bay – at real value-for-money prices. In fact, GreenThumb Birmingham South provides a professional service, carried out by a trained Lawn Operative for LESS than it costs to buy the materials at a D.I.Y store and do the job yourself. 
As well as scheduled feed and weed treatments, the company can carry out winter treatments, including hollow-tine aeration and scarification, which will help your lawn stay free of moss during the winter. Moss is a particular problem in the Birmingham South area and if your lawn suffers from moss why not call GreenThumb and they will carry out a free lawn inspection.
You don't have to live with a lawn that's below par. Every week new customers are discovering the unbelievable value of GreenThumb.
Contact Us
If you have a question about your lawn, you may find what you need in our our FAQs section or our Lawn Problems & Advice section. Alternatively, get in touch by completing the form below. We will get back to you as soon as possible, though this may take longer than usual at weekends or Bank Holidays.
We never pass your details on to third parties.
N.B. fields marked with an asterisk (*) are required.
Thank You for contacting your local GreenThumb
A customer service representative from your local branch will contact you soon.
Please note: Submissions received on bank holidays and weekends may take longer to respond to.
What to expect next?
Your details have been forwarded onto your local branch. Once they have received them they will call to arrange a free lawn analysis.
How long should I wait?
We aim to contact you back within 24 hours, however messages sent on bank holidays and weekends may take longer to respond to.
How will you contact me?
We will phone you on the number you have provided, however if we can't get through to you, we will try to contact you via email.
Meet The Team
The people that make a beautiful lawn possible
Edward Murray
Franchisee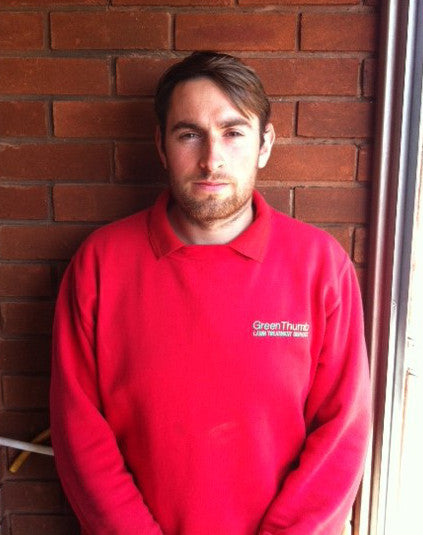 Thomas Price
Franchisee
Frequently Asked Questions
When can I start using GreenThumb?

You can adopt our services at any time of the year. There is never a 'bad time' to start improving your lawn.
Do I have to be at home when you come and treat my lawn?

The majority of our customers are not at home when we call. Since all our vehicles and Lawn Operatives are self-sufficient, we can carry out your treatments as long as we have access to the lawns.

If you would prefer to be in when we are treating your lawn, we will do our best to accommodate your request.
I have children and /or pets. What should I be aware of?

We recommend that you keep off the lawn until any liquid part of the treatment has dried (approx. 2 hours). This stops it being walked off. And this is especially true of our NutraGreen Autumn Long Treatment, we recommend that you keep off the lawn for more than 2 hours then as it could stain a carpet or wooden floor, if it were walked into the home.

Grazing pets such as rabbits and guinea pigs should be kept off the lawn for a minimum of two weeks or three cuts, whichever occurs latest, to avoid ingestion of Ragwort, in particular, which becomes poisonous to them as it dies back.
Do I have to sign a contract?

No, we want our customers to continue with GreenThumb based on our merits in creating a healthier, greener lawn for them - not because they are stuck in a contract. Of course, with our treatment programmes, you will need to sign a Direct Debit Mandate with the relevant T&C's which relate to this payment option.
Postcodes We Cover
B13
B14
B15
B16
B17
B29
B30
B38
B48
Postal address:

GreenThumb Birmingham South
19 Richard Road
Walsall
West Midlands
WS5 3QW
Registered address:

19 Richard Road, Walsall, West Midlands, WS5 3QW

Company name: T & E Garden Services Ltd
Company number: 07113115
We're accredited as Lawn Assured because we follow the standards set by BASIS to care for lawns in a safe and sustainable way. We are trained and independently audited each year to retain this accreditation.