GreenThumb

Ashby De La Zouch
Lawn Care Treatments, Repairs and Maintenance Services in Ashby De La Zouch
Welcome to GreenThumb Ashby De La Zouch
Chris and Martin along with their team of Lawn Operatives look after thousands of lawns in Ashby de la Zouch, Coalville, Melbourne, Breedon on the Hill, Chellaston Ibstock Markfield Swadlincote and all other surrounding areas.
The GreenThumb method is proven to bring out the full potential of your lawn all year round. Not content with being the first lawn treatment service in the UK. With 32 years of experience we continue to pioneer the very best there is in every aspect of Lawn Treatments, including lawn fertilisers.
Our fertilisers are tailored and manufactured to our specifications based on millions of Lawn Treatments every year. No one else – including any other lawn care provider – does this. Their fertilisers are 'off the shelf'. Our lawn feeds are specially developed to be bespoke to UK lawns and just for our customers.
We pioneered 'No Scorch Technology' fertilisers more than 15 years ago. These fertilisers reduce the need for watering following a Lawn Treatment.
Today we offer a regular, balanced feeding programme for lawns with a flexible approach, giving you a bespoke treatment on every lawn, every time.
We only use selective herbicides (weedkillers) on your lawn, these will only address the weeds in your lawn and not affect the grass in any way.
All of our crewmen are fully qualified to spray these products, it is a legal requirement to hold the NPCT qualification, unlike many so called "Gardeners". who are unqualified and will be buying products that you can buy from your local garden centre.
We have dedicated resources for the development and improvement of Lawn Treatments. We continue to work with leading fertiliser and plant nutritionists in the country to create the best lawn feeds, only for our customers. 
We recommend 4 treatments throughout the year to help provide your lawn with all the nutrients it needs to be healthy and weed-free. Each of our treatments is like the seasons, a natural progression throughout the year providing the necessary nutrients the lawn needs. Whether it be bringing your lawn back to life in the spring, making it healthy and strong throughout the summer, or suppressing the moss in the winter months, we have it covered. We also recommend a yearly scarification and hollow-tine aeration which will allow your lawn to breathe, by removing the thatch in the lawn and removing thousands of cores across the lawn, allowing important air and water to flow into the lawn's root system.
We also offer a range of treatments to help the lawn prevent any potential issues such as disease and pests. We are experts in dealing with these problems that customers may not be aware of; such as Red thread, Fusarium and many other fungal diseases.. As the best line of defence is in preventing these issues arising in the first place, we use our treatments to create a strong healthy lawn which will be much less likely to experience such diseases.
We are proud of our products and we work in partnership with our customers; they become part of the GreenThumb family. We offer a free lawn health check any time at no cost, to all current or potential customers and we will make ourselves available to answer any questions or concerns you have about your lawn. Call today for a free lawn health check and see how we can benefit your lawn.
Contact Us
If you have a question about your lawn, you may find what you need in our our FAQs section or our Lawn Problems & Advice section. Alternatively, get in touch by completing the form below. We will get back to you as soon as possible, though this may take longer than usual at weekends or Bank Holidays.
We never pass your details on to third parties.
N.B. fields marked with an asterisk (*) are required.
Thank You for contacting your local GreenThumb
A customer service representative from your local branch will contact you soon.
Please note: Submissions received on bank holidays and weekends may take longer to respond to.
What to expect next?
Your details have been forwarded onto your local branch. Once they have received them they will call to arrange a free lawn analysis.
How long should I wait?
We aim to contact you back within 24 hours, however messages sent on bank holidays and weekends may take longer to respond to.
How will you contact me?
We will phone you on the number you have provided, however if we can't get through to you, we will try to contact you via email.
Frequently Asked Questions
When can I start using GreenThumb?

You can adopt our services at any time of the year. There is never a 'bad time' to start improving your lawn.
Do I have to be at home when you come and treat my lawn?

The majority of our customers are not at home when we call. Since all our vehicles and Lawn Operatives are self-sufficient, we can carry out your treatments as long as we have access to the lawns.

If you would prefer to be in when we are treating your lawn, we will do our best to accommodate your request.
I have children and /or pets. What should I be aware of?

We recommend that you keep off the lawn until any liquid part of the treatment has dried (approx. 2 hours). This stops it being walked off. And this is especially true of our NutraGreen Autumn Long Treatment, we recommend that you keep off the lawn for more than 2 hours then as it could stain a carpet or wooden floor, if it were walked into the home.

Grazing pets such as rabbits and guinea pigs should be kept off the lawn for a minimum of two weeks or three cuts, whichever occurs latest, to avoid ingestion of Ragwort, in particular, which becomes poisonous to them as it dies back.
Do I have to sign a contract?

No, we want our customers to continue with GreenThumb based on our merits in creating a healthier, greener lawn for them - not because they are stuck in a contract. Of course, with our treatment programmes, you will need to sign a Direct Debit Mandate with the relevant T&C's which relate to this payment option.
Postal address:

GreenThumb Ashby
The Springboard Business Centre
Mantle Lane
Coalville
LE67 3DW
Registered address:

Springboard Business Centre, Mantle Lane, Coalville, United Kingdom, LE67 3DW



Lawn Care Gallery
Look at some of the photographs we've taken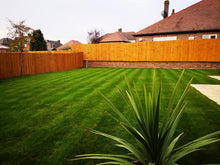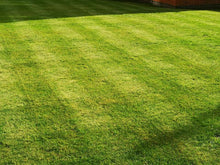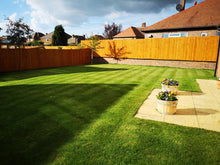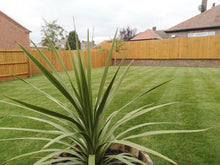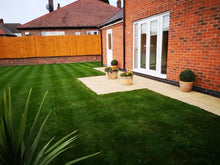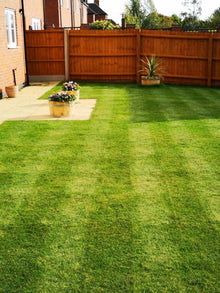 We're accredited as Lawn Assured because we follow the standards set by BASIS to care for lawns in a safe and sustainable way. We are trained and independently audited each year to retain this accreditation.